How to Build Your
Own Pool
I wanted to publish Build your own Pool right away because with with the rising cost of building swimming pools, anyone could use to save $7000 to $15000 or more!
This is what we did! We saved about $14,000 dollars by following this step by step process and we built our own pool owner builder and cut out the middleman.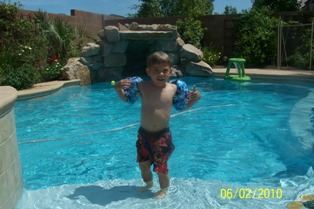 What you Get in How to Build your Own Pool
** Step by Step instructions on what to do First to Last.  Do you know that you have to have your pool drawn first? Do you know who to call to draw your pool? Do you know what parts you need? Plumbing? Lighting?
**A Picture of my pool drawing so you know what a drawing should look like with all of the specifications
**What to do with your plans and drawing once you have them 
**How to get an owner builder permit
**What subcontractors to hire and how to find them ... I walk you through step by step in each stage from digging to decking and even how to get a warranty on your pool as the owner builder!
17 Page Guide Only $3.99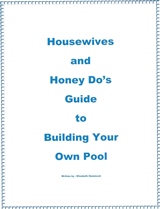 Disclaimer
I want to put out the disclaimer, that I am a Real Estate agent and  a housewife, not a contractor, and had zero experience in construction when taking this endeavor on. 

I do not claim to know anything in depth about building a pool on your own, but intend to tell you step by step about my personal experience in doing this myself and saving my family over $14,000.
We were able to get a better quality swimming pool and also add some upgrades that we would not have been able to afford without doing this project ourselves. So, please remember to go to your Las Vegas building department in your area first and tell them you want to build your own swimming pool as an "owner builder". 

This will save you preventative heartache by getting an exact order of how to proceed. Here is the Henderson City department. 

Laws, codes and regulations vary city to city and state to state, so don't assume the steps are in the same order as mine and you may have other requirements that we did not have in our city. Pulling your permit will give you some guidelines on what order each step and inspection should take place. 
Get Your 17 Page How To Build Your Own Pool Guide
Purchase My Ebook NOW and get immediate access for ONLY $3.99 !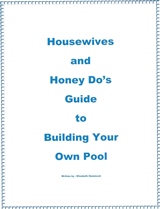 I have included each step in order of my experience.  I have offered recommendations based on what choices I made and how I might do things differently if I had to do them over.  This guide includes pool drawing and design instructions as well as construction specification examples. There is also a picture of my personal end product so that you can see how successful you can be, or you can just look up to the top of the page at my son and my pool!  
Always use licensed contractors! You have no recourse if you don't and no protection if they damage your property. You can request bids from several different contractors by using your drawing and get the best pricing.  

You are saving money by eliminating the pool company, the planner, or middle man so to speak. You are the middle man now, the organizer and supervisor. 
Helpful Resources For You

As always, I value everyones feedback on this adventure. Please send me your comments, photos and ideas on Build Your Own Pool. Have a great day and happy building! 
---

Helpful Links for Build Your Own Pool:
City Resources Las Vegas information, maps, communities, statistics, the city official webpage and more information.

About Us All about the owners of Live in Las Vegas NV.

Find thousands of unbiased ratings on services for Contractors and repairs on Angies List
Return to Las Vegas Nevada Real Estate from "Build Your Own Pool".
---
Home | About Us | Contact Us | Build a Site Like This

©2008 Live in Las Vegas, NV - All Rights Reserved