Las Vegas Wedding
Chapels 
**Properties available for sale and pricing of properties on this website may be outdated due to the swiftly changing real estate market, please contact me directly for updated and accurate home searches
Are you looking for Las Vegas Wedding Chapels that can host an Elvis themed wedding or venue in Las Vegas that showcase traditional church weddings? Or maybe you would like to choose one that is located in a resort or hotel. Your dreams are unlimited in the amazing city of lights.    
DISCLOSURE: This FREE resource site contains affiliate links & ads related to items my audience is interested in.  This enables me to support this site by sometimes earning a commission if you decide to make a purchase via these ads or links.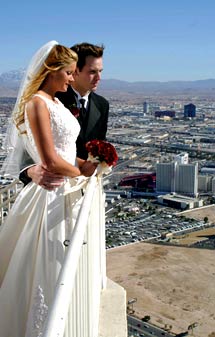 This picture is the Chapel In The Clouds at the Stratosphere

Country Club Venues
Locals often prefer to celebrate in venues on golf courses or in country clubs. These type of wedding chapels are sometimes made up of simple gazebos, but often the surroundings are lush and green with waterfalls or lakes.

Emerald at QueensRidge is a great location.  Queensridge is a luxury high rise development on the west side of town in which each home has a private terrace, garden or courtyard all its own.  This is an extremely high end luxury location to hold a ceremony.  For Weddings at Emerald, there is an outdoor venue which is a beautifully landscaped courtyard surrounded by waterscapes and views of Red Rock Canyon. And then, there is an indoor venue which is a grand ballroom.
Located in the gorgeous Northwest Centennial Hills area is The Grove  tranquil outdoor gardens setting with waving palms and beautiful greenery.  This Las Vegas wedding chapels venue has some very affordable packages as well, as low as $500 for 50 guests.  
At the Lake Las Vegas Resort master planned community, there are a number of romantic and scenic venues to choose from especially taking advantage of the Lake views.  They also have amazing golf course scenery and golf club venues available with a backdrop of some very high end celebrity homes.  You can contact them here or take a look at The Hilton Lake LV or the Westin Lake LV venues that have their own amenities such as food catering, rooms and swimming pools.  
Red Rock Country Club - They call the area Red Rock for a reason, this is a central west area that is surrounded by the gorgeous Red Rock canyon.  This particular country club is surrounded by high end homes and the venue is overlooking two emerald green golf courses with views of the strip "elegant" puts is mildly, luxury and beauty are at their finest here for your memorable day.
Revere Golf Club – This country club is located in Henderson, which is just southeast of the strip.  They have a 23,000 sq ft clubhouse with its own restaurant and of course, panoramic views of the Las Vegas Valley and the city lights.  This venue has great rates if you would just like to rent the space, however, full planning and organizing is available to you if you would like to relax and have a stress free experience from start to finish.   
If your friends still want to stay at a great vacation destination while attending your wedding, you can recommend the Green Valley Ranch Resort. This is a small but very luxurious locals resort about 10 minutes from BMCC and also has a great outdoor mall attached to it for wining and dining before and after your big event.
Canyon Gate Country Club is typically a locals recommended venue.  This is a very private location that can accommodate parties of up to 250 people.  They pride themselves on waiting on you hand and foot.  The Canyon Gate CC ballroom has 25 foot glass windows and an expansive balcony overlooking their beautifully manicured golf course. and Red Rock canyon.  This is the elegance of elegant wedding locations.  
Other amazing Las Vegas Wedding Chapels are located inside beautiful resorts and hotels, there are resorts and hotels on the Las Vegas Strip and off.
Locals often prefer to celebrate their vows in Resorts that are not in the heart of the strip, but visitors often like to have their wedding and reception inside Las Vegas Wedding Chapels in a strip resort. 
Resort and Hotel Las Vegas Wedding Chapels on the Strip
Forever Grand Wedding Chapels - at the MGM Grand, The MGM is an amazingly large hotel.  It sits on Tropicana and the Strip and you cannot miss it.  Get married outdoors or indoors and customize your dream.   There are two chapels here as well as four other outdoor terrace style locations each with their own custome features.  There is a spa on property to spoil yourself before or after as well as a salon to prepare for your special day.
The Chapel - located inside Planet Hollywood Hotel, this ground has royal history as the Aladdin resort that once stood here was where Elvis and Prescilla Presley were married.  If you already love the trendy and colorful feel of the Planet Hollywood then this is the Las Vegas wedding chapels venue for you, it boasts bright colors and intricate glass art and can host 65 people.  They do however offer other wedding packages for example an "in suite" ceremony.
Mandalay Bay Weddings - located inside Mandalay Bay Resort, this Hotel has won many awards for their weddings and venues.  They offer an in suite package, you can marry within their Shark Reef aquarium, there is a luxurious outdoor location with huge pillars and sunshine and you can even get married in the Minus 5 Ice Lounge where everything even the chairs and glasses are ice.  I will attest as a local that their hotel is immaculate and upscale as well as trendy.  This is a very nice location and the several options they offer for venues is really creative.  They have a great resort pool and they also have an attached mall with even more great dining and shopping for your down time.
Foundation Room - inside Mandalay Bay as well, this is a unique place in that it towers high above the Las Vegas Strip with panoramic views and is one of the best high end Las Vegas ultra lounges with bold and rich decor.  This lounge is very popular with the locals.
Wynn and Encore weddings - inside the Wynn and Encore resorts, whatever your desire, they have an elegant package for you.  You can not get too much more lavish than a Wynn wedding.  The resort has the ability to accommodate an outdoor golf course view wedding, they also have wedding salons (chapels indoor) as well as intricately adorned courtyard areas.  They can even create a Zen wedding for you in Tranquility Hall at the spa at Encore.

Bellagio Wedding Venues - inside the Bellagio Resort there are chapels, courtyards and views available of the most spectacular and world famous Bellagio fountains.  Elegance and luxury abound in another Steve Wynn resort which can be expected to be no less than top notch service and amenities.
Chapel in the Clouds - At the Stratosphere, get married 800 feet above the Las Vegas Strip.  That is, if you are not afraid of heights.  They have four wedding location options for you in their world famous Stratosphere tower.  There are two chapels with panoramic city views and two indoor outdoor ceremony locations.  They also have an amazing restaurant as well as panoramic view reception rooms.  This resort is a very convenient location to all of the strip action as well.
Monte Carlo Chapel - Located inside the Monte Carlo Hotel which I consider to be a more affordable strip resort.  They do have a great pool with a wave pool and lazy river which is great fun in the summer months.  Their room rates are really good comparably speaking to some of the higher end resorts and their location is excellent in the center of everything.  They do not have their prices posted for ceremonies, however I would imagine they are pretty good on their pricing.
TI Chapel - located inside Treasure Island, this place is great fun.  You can have the most elegant wedding of your life (hopefully the only wedding of your life) poolside or enjoy a more cozy private setting in their romantic chapel.  You can even do something very unique and stir up some excitement by saying your vows on their pirate ship.  The dining options in this resort are excellent as well from a fun and raunchy cowboy bar to a top notch Italian steakhouse.  Every taste will be satisfied here for a full Las Vegas experience as well as a lot of romance and beauty.
Island Wedding Chapel - Located at the Tropicana Resort and Casino.  They have two indoor wedding venues and four outdoor locations.  The resort has an island feel with swaying palms, colorful flowers and lush landscapes with waterfalls.  A Hawaii feel comes through either in the Island chapel or the Havana room with rich dark wood floors and candles.  The location is great for visiting anywhere on the Las Vegas strip during your stay and your photos will be picture perfect.  Those aren't pictures from Las Vegas Wedding Chapels are they? They will not believe it.

Locals Resort and Hotel Las Vegas Wedding Chapels
The Hilton at Lake Las Vegas - located at Lake Las Vegas.  This Las Vegas Wedding Chapels venue has turned hands many times due to the economy, however who to make some diamonds out of sand than the Hilton chain.  If you are looking for private, gorgeous and quiet, this is a wonderful place to get married.  You are steps from the Lake Las Vegas Lake and you can bet that your every dream will be accommodated.  
Red Rock Resort - located inside West Las Vegas' Red Rock Resort and Spa.  This is a relative of the Green Valley Ranch Resort but it is actually in Las Vegas West of the strip. This property is small in style but not lacking in beautiful landscape and decor.  This is a great choice if you would like the Las Vegas experience without the horrible congested strip traffic and crowds.  This resort is also surrounding by great shopping and dining venues.
JW Marriott LV Resort and Spa -located inside JW Resort Marriott in Summerlin, this is North West of the strip and somewhat of a locals venue.  There are some gorgeous golf courses around here and they have a great convention business, so the resort is a little smaller and more cozy of a feel but still very elegant. 
Another great feature is that it is located next to a lot of locals shopping and dining fun.  They have many venues to offer from a garden gazebo for up to 200 guests, a beautiful ballroom and terrace with views of the strip and Red Rock canyon which can accommodate up to 450 guests which is hard to find in many Las Vegas wedding chapels and then there is the Edge ultra lounge for a modern and trendy location with inclusive bars and dancing and many other locations such as a lodge on the lawn and a beautiful suite location.  Really, for a smaller resort, the wedding locations are grand.
Sam's Town - located in the Southeast part of town.  This is an extremely affordable wedding package and the Sam's Town resort is unique in that they have this amazing indoor atrium and it is not what you are picturing.  It is massive and as tall as the hotel walls. It feels like you are outside, but you have the comfort of being inside with flowing water and soothing animal sounds.  
The Alexis Park Resort - located across the street from the Hard Rock Hotel.  This is an all suite resort and if you are looking for elegance and comfort at an affordable price, this is a great venue.  They can accommodate an elaborate affair for 500 here which you will not find at most of the on strip in resort venues.  The location is off strip but right across the street from the Hard Rock resort if you have the pre or after ceremony need to gamble and listen to some great music.
Themed Las Vegas Wedding Chapels
Elvis Wedding Chapel -Famous themed Wedding chapel.  I know the ideas about Las Vegas have changed some, but there are still thousands of people that want to get hitched the old fashioned Vegas way.  Have Elvis at your wedding, or the pink Cadillac, he can even sing or perform your vows.  This will certainly be memorable
American Theme Weddings - Traditional wedding alternatives for those that want to honeymoon here, but not have a VEGAS style wedding.
Graceland Chapel Located right on Las Vegas Boulevard, this is an adorable little white chapel in which you can have a very affordable traditional wedding or enjoy celebrity packages and Elvis weddings.  They have a great Elvis and they can even broadcast your wedding on the internet for friends and family.
Rocky Horror Theme Wedding Is Halloween close? Here is a theme that you can have that will fully encompass this great holiday experience.  Who thinks of this stuff?  This is a little off the cuff, but some people just want to do something different, this is surely it.
Custom Las Vegas Wedding Chapels Venues
Rainbow Gardens Outdoor Las Vegas Wedding chapels located at 4125 West Charleston, Las Vegas 89102, this outdoor or indoor chapel choice is adorned with lights and flowing chiffon.  They promise to satisfy even the most exquisite tastes.  
Sunset Gardens  Located at 3931 E Sunset Rd, Las Vegas 89120, Sunset Gardens has been providing beautiful weddings for 30 years here.  This speaks for itself in location, beauty and service.  
Allure Chapel Downtown Las Vegas is becoming very popular.  See the historic, cool swanky downtown.
Las Vegas Bride - A Complete listing of Las Vegas wedding chapels and private locations. Visit this link to check out an expert resource in the industry and get your creative juices flowing.  
Las Vegas Wedding chapels in Las Vegas are plentiful and range from discount to exquisite!  May your future be blessed and we hope to see you on your anniversary celebration.
---
Helpful Las Vegas Wedding Chapels Links:
Cheap Las Vegas Weddings

 Our very own page of how to do it in Vegas on the

cheap!  Las Vegas Wedding chapels or venues can be affordable, you just need to know where to go.  It might not be where you would normally imagine!

Directory of Local Churches this is a great basic guide to churches by area and denomination.  If you would like to get married in "REAL" Las Vegas Wedding Chapels, churches or synagogues, this is your page.  I cant possibly list them all, but this will give you some good places to start. 

Clark County Marriage License - I would go here first.  No license No marry.  There are SOME rules for this, so be prepared for success is all I'm saying.

Mon Bel Ami Speak with a wedding planner 24 hours a day
Return to Weddings in Las Vegas from "Las Vegas Wedding Chapels".
---
Home | About Us | Contact Us | Advertise with Us | Build a Site Like This