All Kinds Of
Weddings In Las Vegas
**Properties available for sale and pricing of properties on this website may be outdated due to the swiftly changing real estate market, please contact me directly for updated and accurate home searches
Are you thinking of tying the knot in Sin City?, Weddings in Las Vegas are full of amazing and unique ideas , so take a look at all of the various kinds of weddings in Las Vegas.
DISCLOSURE: This FREE resource site contains affiliate links & ads related to items my audience is interested in.  This enables me to support this site by sometimes earning a commission if you decide to make a purchase via these ads or links. 
You will also find all of your marriage license information, a Complete Chapel listing and other venues.  


Download Free Wedding Planning Checklist Now!


If you are a local resident, you may be looking at gorgeous outdoor locations or even Country Club or resort venues. As a visitor coming to wed here, you might take a look at some great themed weddings in Las Vegas or the hundreds of other chapels waiting to meet your every need.
Local or visitor, visit here for up to date information on local bridal shows and events. 
Are you in a time or money crunch? We can even plan a drive-through ceremony so you can get to the honeymoon quicker. Planning the perfect Weddings in Las Vegas? Find the best local wedding services providers with unbiased reviews at Angie's List 

Visit our page to plan a Cheap Vegas Wedding! and get a copy of our FREE wedding planning checklist. 
Popular Chapels and Famous Chapels For Weddings In Las Vegas
Elvis Wedding Chapel - The ultimate Vegas Wedding is of course at the Elvis Wedding Chapel. Packages starting as low as $200. 
Little Church of the West -

This cute little place has been hitching people for 70 years. Come check out the spot where many stars over the years have said their vows, like Richard Gere and Cindy Crawford, Judy Garland, Mickey Rooney and so many others.
Graceland Chapel For die hard Elvis fans! Famous Musicians seem to love this place that has been in operation for almost 70 years.  Join the wedding spirit of other that tied the knot here like Jon Bon Jovi and the Thompson Twins.  
Complete Local Church Page 

- If you dont want to marry in a typical chapel here in Sin City but want to make your marriage a more blessed occasion by just tying the knot in a church, we have researched and linked several local churches here all over the valley for you.

They all have the same goal—to make your weddings in Las Vegas experiences to remember. Some of these need to be booked well in advance while others have walk-in service. 
Looking for wedding accessories?
Games for a bridal shower, gifts for your bride, groom or guests, Las Vegas themed cake toppers or wedding planning guides galore, check out the Amazon store, they have everything!
The Legal Issue
Just like any other state, Nevada has certain pre-ceremony legalities that must be met to obtain a Las Vegas Marriage License. To find the city Marriage Bureau, it is located at 201 Clark Avenue on the corner of Clark Avenue and Third Street. The Marriage Bureau has a separate entrance from the main building on the first floor. 
Some Basic Facts You Need to Be Aware of:
You need to be unrelated, at least 18 years of age, and have proof of your age
There is no waiting period or blood test needed for weddings in Las Vegas. This is great for those that decide to marry the day they meet... What happens here stays here right?
Pay the license fee at the county courthouse. Fee is $60 and an additional $5 if paid by credit card. Debit cards are not accepted unless also a credit card**
Anyone 16 or 17 years old can get married with guardian consent. Proof of guardianship is required
Anyone under 16 without parental concsent requires a court order
Prior divorced persons need to have a legalized document from the state they were divorced in, showing proof.
It is fairly easy to obtain a marriage license in Las Vegas. That is why it has become so popular for weddings; planned or otherwise. 
Themed Weddings in Las Vegas
Pirate take the "plunge" humorously.
Egyptian or Camelot theme
Gangster theme, perfect for Las Vegas!
You can find these all at the Elvis Wedding Chapel as well as Grand Canyon and Helicopter weddings, skydiving and ATV tour weddings and Pahrump Valley Winery Estate nuptuals. 
Create Your Own Tale of a Lifetime
Weddings in Las Vegas have become as popular as gambling. You can truly have the wedding of your dreams because just about anything is possible in Las Vegas. Here is a wonderful website that gives you hundreds of ideas!
Traditional or adventurous, spontaneous or years in the making, Las Vegas weddings are always a tale of a lifetime.
Weddings In Las Vegas Planning Necessities
I have either personally used or been referred the following vendor suggestions, so this is a good chance at having a great experience!

Wedding Invitations or Printing Contact Irene Fenolio the owner of the store at 702-614-5166 and tell her Elizabeth Hammack sent you, yes its a Portent, but this location has one an award for amazing work!
Las Vegas Wedding Videographer
Party Tents and Rentals 

Here is a guide to the traditional way of doing things and how the expenses are to be divided amongst the bride, groom, family, etc.  A sort of who pays what in a wedding?
Four Main Parts of a Wedding
Reception - 

A celebration and hospitality for those that attended your wedding, a great way to thank everyone for coming, allow guests to congratulate you and receive your wedding presents! 
These money and who pays what rules are rather guidelines and Weddings in Las Vegas is just providing them to show you a general etiquette and what was tradition, but we know now "adays", that many changes are being made to the general order and way things were once done.
What should the Bride's Family Pay?
Used to be that the brides family saved all of her life and paid for everything!  Not so much anymore.  Yes some old fashioned families still do this and some that can still afford it, but for the most part we have two working parties that split the wedding because often parents dont have the money, or everyone helps or they get a loan... Here is how things were traditionally and feel free to carry this on if you like: 
The bride's family should pay for the reception dinner with all its many accompaniments such as food, beverage and alcohol, the dinner venue, the waiters and other service staff and that includes tipping, also the decor such as candles, flower arrangements , water features, photographer, etc.  
They can also contribute to many of the items needed leading up to the actual ceremony for weddings in las vegas, and these can include the brides wedding dress, shoes, accessories, the wedding invitations and save-the-date reminder mailers or cards, and they can often foot the bill for the engagement photos and wedding photos. 
The costs for the brides family can go so far as the package for the chapel, the cost of hiring the ceremony photographer and hiring the company to video the ceremony and reception.  What about even paying for the ring bearer pillow and ceremony essentials like the flower girl basket and accessories?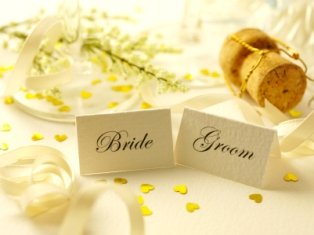 Did you know that the family could even be expected to front the transportation costs and the bouquets for the bridesmaids.  I would say, if you have a daughter and you are trying to plan ahead, start saving at 1 years old.

What does the Bride Pay For? If you compare what the brides family has to pay, the bride gets quite a break on the expenses.  But, remember these are just guidelines.  Brides usually pay for their groom's wedding band of choice, buys all of the gifts for her bridesmaids, hosts a luncheon for her bridesmaids, takes care of her own blood test fees if required and any toiletries to enhance her bridal night such as perfume, lingerie, lotions and potions.
If her bridesmaids traveled out of town traditionally, the bride would pay their costs of travel and stay, but I have not seen this happen lately, it seems now adays, if you get invited to be in a wedding, you just plan on paying to be in it including your garb.
What does the Groom pay for? Well of course he buys the engagement ring.. and it better be a good one.  Two months salary spent is the traditional guideline if you are following those guidelines.  It seems to me that it is more like six months salary for most in this day and age.  The groom will probably be footing the bill for the honeymoon and the Marriage License.
Oh, and dont forget the great flasks, game tickets, cigars or other gifts for your groomsmen. If the groom is a true gentleman he will also cover the cost of the brides flower bouquet and the flower corsages for mom in law and his soon to be new mother-in-law. And just when you think you have paid enough, traditionally the groom would also pay for the mens boutonnieres, and his brides wedding band to accompany her engagement ring.
The groom might want to pick up special gifts for the ushers and for the parents if the desire is to show them you have class. Oh, lets see I forgot that the groom typically can be responsible for the honorary judge presiding over the ceremony as well.
What does the Groom's Family pay for? The grooms family should plan and pay for the rehearsal dinner and everything that goes along with it.  To include, dinner, drinks, decor, photos, etc.
What Does the Maid of Honor Pay For?
The bachelorette parties and any planned wedding showers are the responsibility of the brides chosen maid of honor. The responsibilities are not limited to venue, invitations, food, games, dessert, etc.

What does the Best Man pay for? The best man is the so called master of ceremonies and planner of the grooms bachelor party. He is responsible for the entire event from the planning to actual running of the event and guests and getting everyone home safely hopefully! Be careful if you are planning your bachelor party in Vegas because many a marriage has ended before it started in sin city.
What do the Groomsmen and Bridesmaids pay for? Traditionally and I say again, not rules, guidelines, each party member will pay for their own wedding attire such as the  tuxedo rental and costs of the bridesmaid gown the bride has chosen for them – These and any accessories are the responsibility of the individual wedding party member. 
They also typically should bring a gift to the newlywed couple. If you are a member of the wedding party and you are arriving from out-of-town you are also expected to pay for your own accommodations which can be expensive if the wedding is an elegant weddings in Las Vegas event.
Thank you for visiting Weddings in Las Vegas, return to our search bar if you are planning on traveling here for great travel tips and planning tips for your trip here. Have a blessed event!
---
Helpful Links for Weddings in Las Vegas: 


Return to Home from "Weddings in Las Vegas"
---
About Us | Contact Us | Build a Site Like This | Advertise With Live in Las Vegas NV

©2008 Live in Las Vegas, NV - All Rights Reserved