A Wedding Planning Checklist for any Timeframe
**Properties available for sale and pricing of properties on this website may be outdated due to the swiftly changing real estate market, please contact me directly for updated and accurate home searches
A wedding planning checklist is an important tool for the main reason that it keeps you from forgetting any important parts of a perfect ceremony. I got a big binder and bought a box of plastic protector sheets.

Believe it or not this was the best organizer ever! I put pics of cakes I liked, clothing, dresses, decor, seating plan, everything in the clear sheets in my book and it was easy to change pages as needed! and the pictures make a great keepsake.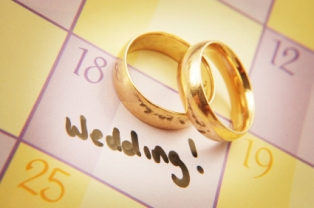 If you had a wedding planner, they would use a wedding planning checklist, so if you are planning your own, pick one of these to follow based on your time frame and many blessings to you! You can even Create Your Own Personal Wedding Website by visiting Zola, you will love it, create a beautiful wedding website for FREE and create a registry for multiple stores or get cash gifts and keep your guest list as well!


6 Month wedding planning checklist
Pick your location and venue, you will need a wedding site and a reception area.
Choose a Wedding Gift registry, my daughter used Zola, I liked that she could add gifts from multiple stores and got to create a free wedding website.
Find and order your wedding dress and any accessories that you will need. Order your shoes if you need to. Bring these to all the fittings. (don't forget the veil and shoes to make measurements and alterations accurate) 
Interview officiants and hire one.  You can try searching large websites such as Theknot.com for vendors including officiants in your area.
Start choosing music, musicians, band or DJ, these can also be found on sites like Zola or Theknot.com click on wedding vendors.
Start interviewing photographers and a videographers if you want a video, don't scrimp on these, these are irreplaceable memories. Again, try searching on sites such as Zola or TheKnot.com for vendors.  
Start choosing your style.  Visit Pinterest and start creating boards with things you love and then narrow them down to your style.  You will need to decide on a theme, colors for the wedding and your bridesmaids and groomsmen and what flowers you want and what you can afford.  Start interviewing for caterers and florists.
If you feel overwhelmed and lost, you can always hire a planner or get a package from a reputable venue that does everything on your wedding planning checklist for you!
Download Free Planning Checklist Now!
4 Month
Book a block of hotel rooms for out-of-town guests. Try visiting Hotels.com, they give you a free room for every 10 rooms you book through their site, and they also offer major discounts.
Contact out-of-town guests about the wedding (prior to sending out invitations) 
Finalize dinner menu with caterer. What type of food sounds good?  My daughter did a buffet style finger appetizers for the cocktail hour which was pretty affordable, and they were just set up in nice chafing dishes with tongs.  The dinner was a taco truck, but it was an outdoor wedding and we were on a budget.
Bride: select flower girl's dress and pass details on to the parents.  Give them the exact link of the style and make sure they know how you want it to look.  Also add flower basket, petals, flower crowns or hair flowers to your florist list if you want these.
Purchase wedding guest favors.  Bubbles are super affordable if you buy bulk on Amazon.  We had personalized plastic beer cups made and the guests took those home.  Get a thousand ideas here.
Book the limousine or other wedding day transportation.  We also hired a private driver for very affordable to be a designated driver to guests hotels.  We were in a remote location, so Uber is an excellent option for in town weddings.
Book the rehearsal dinner site. Ideally this should be the same site as your guests will already be drinking most likely and you probably should keep them from driving around more.  
Grooms, pick out your tux, etc. Unless the bride is in charge of this which she probably is.  
Book a hotel room for the wedding night 
Book a photo session for engagement announcement in local newspapers
2 Month
Make final checks on everything on your wedding planning checklist: catering, honeymoon, photographer, videographer, florist, musicians, officiant, rehearsal, etc.
Make sure announcements are addressed and arrange for someone to mail them on your wedding day 
Think about what you are going to take on the honeymoon, decide when you will pack 
Buy traveler's checks for honeymoon 
Arrange for someone to house sit, pet sit or babysit while you are on your honeymoon 
Send your travel plans and contact information to a family member and your house sitter (in case of an emergency) 
Finalize the seating plan and write place cards 
Get final guest counts to caterers, wedding cake company, party rental company and/or reception site coordinator 
Write toasts for the rehearsal dinner and reception 
Pick up your wedding dress 
Try on your wedding shoes and wear them on carpeted surfaces around the house 
Attend your bachelor and bachelorette parties, if you're having them, and wedding showers 
Send thank you notes to the hosts of your pre-wedding parties 
Write thank you notes for gifts received at wedding showers 
Pick up your wedding bands 
Obtain the marriage license
Arrange for pick up of guests and attendants arriving at airports
Buying a wedding planning checklist book can be a great source of marking things off as you go.

How to Save on Your Wedding ... special bonus, budgeting
As of 2019 the average cost of a wedding registers at a staggering $38,700 !  This leaves many couples overwhelmed by the most expensive celebration they have ever hosted which is sad because this is supposed to be a time of overwhelming joy right?  This is a huge part of your wedding planning checklist.
While destination weddings were trending on Instagram, we all know the world has changed with COVID pretty much ruining our travel ideas for the time being at least and these weddings can break a budget for sure.  Budgeting for a memorable wedding is attainable with the right preparation.
I am sharing a guide created by Interest.com to help you keep these financial challenges in mind and to support couples in planning their special day while not breaking the bank.  They examine common hurdles that cause budgets to skyrocket and innovative ways to meet funding needs.  Visit the article here.
---

Helpful Links:

Perfect Wedding Guide
Planning a golf-themed wedding? Find just the right wedding favor for golf-lovers at My Wedding Favors.

Return to Weddings in Las Vegas from "Wedding Planning Checklist".


---
Home | About Us | Contact Us | Advertise with Us | Build a Site Like This

©2008 Live in Las Vegas, NV - All Rights Reserved