A Wedding Planning Checklist for any Timeframe
A wedding planning checklist is an important tool for the main reason that it keeps you from forgetting any important parts of a perfect ceremony. I got a big binder and bought a box of plastic protector sheets.
Believe it or not this was the best organizer ever! I put pics of cakes I liked, clothing, dresses, decor, seating plan, everything in the clear sheets in my book and it was easy to change pages as needed! and the pictures make a great keepsake.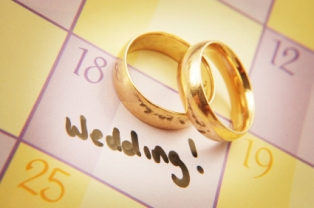 If you had a wedding planner, they would use a wedding planning checklist, so if you are planning your own, pick one of these to follow based on your time frame and many blessings to you! You can even Create Your Own Personal Wedding Website


6 Month wedding planning checklist
Pick your location

Choose a Wedding Gift registry

Find and order your wedding dress and any accessories that you will need. Order your shoes if you need to. Bring these to all the fittings. (dont forget the veil)

Find your bridesmaid dresses

Interview officiants and hire one

Start choosing music, musicians, band/DJ

Start interviewing photographers and videographers if you want a video, dont scrimp on these, these are irreplaceable memories.

Interview caterer and florist
If you feel overwhelmed and lost, you can always hire a planner or get a package from a reputable venue that does everything for you!
Download Free Planning Checklist Now!
4 Month
Order your wedding invitations

Book a block of hotel rooms for out-of-town guests

Contact out-of-town guests about the wedding (prior to sending out invitations)

Finalize dinner menu with caterer

Bride: select flower girl's dress and pass details on to the parents

Purchase wedding guest favors

Book the limousine or other wedding day transportation

Book the rehearsal dinner site

Grooms, pick out your tux, etc

Book the honeymoon

Book a hotel room for the wedding night

Book a photo session for engagement announcement in local newspapers
2 Month
Make final checks on everything: catering, honeymoon, photographer, videographer, florist, musicians, officiant, rehearsal, etc

Make sure announcements are addressed and arrange for someone to mail them on your wedding day

Think about what you are going to take on the honeymoon, decide when you will pack

Buy traveler's checks for honeymoon

Arrange for someone to house sit, pet sit or babysit while you are on your honeymoon

Send your travel plans and contact information to a family member and your house sitter (in case of an emergency)

Finalize the seating plan and write place cards

Get final guest counts to caterers, wedding cake company, party rental company and/or reception site coordinator

Write toasts for the rehearsal dinner and reception

Pick up your wedding dress

Try on your wedding shoes and wear them on carpeted surfaces around the house

Attend your bachelor/bachelorette parties, if you're having them, and wedding showers

Send thank you notes to the hosts of your pre-wedding parties

Write thank you notes for gifts received at wedding showers

Pick up your wedding bands

Obtain the marriage license

Arrange for pick up of guests and attendants arriving at airports
Buying a wedding planning checklist book can be a great source of marking things off as you go.


---

Helpful Links:

Perfect Wedding Guide
Planning a golf-themed wedding? Find just the right wedding favor for golf-lovers at My Wedding Favors.
Las Vegas Outdoor Wedding



Return to Weddings in Las Vegas from "Wedding Planning Checklist".


---
Home | About Us | Contact Us

©2008 Live in Las Vegas, NV - All Rights Reserved