Las Vegas Marriage License Issues 
are over 100,000 Per Year!
**Properties available for sale and pricing of properties on this website may be outdated due to the swiftly changing real estate market, please contact me directly for updated and accurate home searches
To get your Las Vegas marriage license, you need to visit the marriage license bureau in downtown Las Vegas. Don't be surprised to find out that it does not bear the famous name of the city because it is a Clark County Issued document. 

DISCLOSURE: This FREE resource site contains affiliate links & ads related to items my audience is interested in.  This enables me to support this site by sometimes earning a commission if you decide to make a purchase via these ads or links.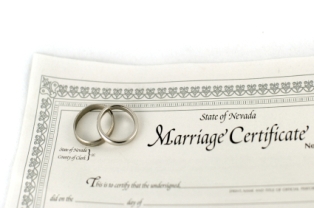 Did you know there are about 315 Weddings Per Day Here?
Your license will be prepared with your legal name exactly as it appears on the identification presented. And yes..you need identification. You can visit the 
Marriage Bureau at 201 East Clark Avenue(directions / map) Las Vegas, Nevada 89155-1603
Their phone number is 702-671-0600. There are also locations in Henderson, Laughlin and Mesquite. 
Henderson Office
240 Water St.
Henderson, NV 89015 
702-671-0500
Laughlin Office
101 Civic Way
Laughlin, NV 89029
702-671-0500
The office to obtain your Marriage license, bureau only is open Daily from 8am to Midnight including holidays. If you would like a civil service performed, the office of civil marriages is open 8am to 10 pm daily including weekends and holidays. 
It is recommended as the marriage license office can become very busy to not wait until the last minute. 
Copies of Marriage Licenses from the Clark County / Las Vegas Recorders office have been relocated here: Order Marriage Certificates or Abstracts.
Acceptable Las Vegas Marriage License Identification
Drivers license, instruction permit, or state ID card 
foreign government issued ID card or drivers license (With birth date)
Military ID card or Military dependent ID card
Certificate of citizenship, certificate of naturalization
Permanent resident card or temporary resident card
Voter ID card (must contain birth date)
Birth Certificate and a secondary form of ID that contains name and picture of the applicant such as: gaming/shefiffs work card, employee ID card/badge, membership card from establishment that requires ID (such as Sams club, Costco)
You can visit our official Las Vegas Marriage license website for detailed things you must know and do to make your marriage license official. There are special requirements for divorced applicants and minors to consider before waiting in the line. 
If you need help planning a wedding here even if you are on a budget, here are many great resources to help you make your day wonderful, Visit our Weddings in Las Vegas Page

Free Planning Checklist and much more, links to locations indoor and outdoor, chapels, resorts, country clubs, great vendors that come referred and even favors!
Cheap Vegas Weddings everything you need for a classy budget day. Where is the office of civil marriages? Ceremonies for $75. Affordable honeymoon planning and more.
Hair For a professional that will come to you and Do Wedding Hair, professional amazing updo's and braiding. 
No matter what your occasion will be the BEST! I have one more suggestion to avoid major hassles, if you want to make sure you have no hiccups ahead of time, the Las Vegas Marriage License bureau offers an online pre-application process you can take advantage of. 
This will help you avoid any setbacks especially if it is a very popular day such as Valentines Day or 11-11-11.