Let's Par-Tee at TOPGOLF
by Alisa Low
(Las Vegas, NV)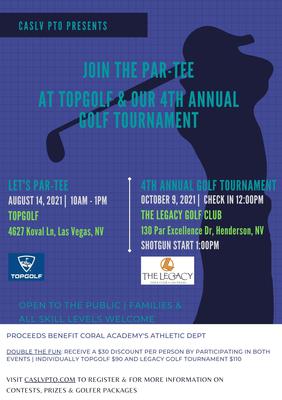 CASLV PTO is hosting a fun Par-Tee at TOPGOLF! Proceeds from these events will benefit Coral Academy's Athletic Department.

Your participation will reduce athletic fees and help programs pay for additional equipment, travel to both in-state and out-of-state tournaments, and other expenses to improve our student-athletes' interscholastic sports experiences.

Double the Fun: Participate in both the TOPGOLF 8.14.21 and 4th Annual Golf Tournament 10.9.21 events to receive a $30 discount per person.

Let's Par-Tee at TOPGOLF
Saturday, 8.14.21 | 10am-1pm
Golfer registration: $90* | Open to the Public
Register by August 8, 2021 at www.caslvpto.com.

TOPGOLF makes socializing a sport for everyone that features a special entertainment complex with dozens of high-tech, climate-controlled hitting bays that blend technology and golf.

The format and structure of the event space and experience allows people of all ages and skill levels — golfers and non-golfers alike — to enjoy point-scoring games using micro-chipped balls that instantly score themselves in tournament-style or recreational play.

TOPGOLF registration includes:
-Food and drink
bottomless fountain soda, iced tea
and water. No host bar.
- Top Contender game
- Complimentary golf clubs during play
- Reserved climate-controlled hitting
bays

Deadline to register for TOPGOLF is Sunday, August 8th at www.caslvpto.com.

See 4th Annual Golf Tournament listing for Double the Fun and Discounted Registration.

Email coralacademypto@gmail.com with any questions.
Join in and write your own page! It's easy to do. How? Simply click here to return to Las Vegas Golf Blog and Events.