Wine and Crafts Near Me - Craft Classes in Las Vegas Wine Events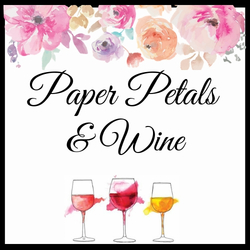 Wine and Crafts Near Me
Wine and Crafts Near Me - Craft Classes in Las Vegas Wine Event. @Paperpetalsandwine

How to make easy paper flowers step by step. Enjoy a local DIY event with friends or on your own. Bring your kids for the non alcohol class or enjoy our fun wine event for 21 and over.

Visit Petalsandwine.com for the entire schedule, many class times are available and you can stop in the gallery daily.

Welcome to the Very First Paper Flower Art Gallery in the United States. We are now open in Las Vegas at Town Square. The owner and designer, Gina May of Paper Flower Couture, is proud to Introduce Paper Petals & Wine.
Paper Petals is an extremely rare and Unique Art gallery which also features how to make paper flowers. Such as DIY giant paper flowers.

-Learn how to make beautiful paper flowers for your wedding, bouquet or home. Classes include how to make beautiful paper flowers, try more difficult designs or try our very easy paper flowers designs. You can make the Poinsettia, the Scarlett Rose and the Julia flower.

-Enjoy Group or Individual Paper Petals and Wine guided classes with the basic class which is child friendly including all materials, a soft drink, water and a light snack or the VIP for 21 years old and over only which includes all materials, preferred seating, 2 complimentary drinks & Milano dark chocolate cookies. Some of the wine and beer selections are Pinot Grigio, Cabernet Sauvignon, Chardonnay, Moscato, Merlot, White Zinfandel, and Riesling, Bud Light and Bud Light platinum, we are working on a partnership to start creating some featured events with local craft beer breweries.

Calling all Artsy people - Just imagine sitting in a beautiful paper flower gallery, with a glass of wine in one hand and a glue gun in the other.

Paper Petals & Wine is the perfect place to relax and have fun while creating an elegant original and one-of-a-kind paper flower you will be proud to display

Paper Petals and Wine has over $55,000 of custom hand made paper flower walls, sculptures and accessories on display. We are an interactive gallery and you may take as many photos as you like and please tag #paperpetalsandwine and @paperpetalsandwine.

We have a colorful and beautiful spring flower wall, A sophisticated & elegant all white flower wall, AND! For all you Vegas Golden Knights fans we have a huge VGK wall to take photos with your friends and add this stop and photos to your souvenir stops for your Las Vegas trip or just in your bucket list of things to do in Las Vegas.

Come in & take photos with the perfect backdrop and wow your friends and social media followers

Book Your Seat in a Beautiful Upscale Paper Flower Gallery here Book Petals and Wine, Order a Drink at Our Bar, Take a Photo with one of my Paper Flower Backdrops, Then Get Ready to Have Fun Creating a Huge, Detailed & Beautiful Paper Flower.

In our 2 1/2 hour paper flower classes a paper flower artist will guide you through the art of paper flower making, using simple tools and techniques. Styles and colors will constantly be changing.

Located right near Artsy Nannies in Town Square, the owner Gina is a third-generation Argentine paper flower artist. She grew up sitting at the kitchen table with her mom and grandmother cutting and rolling paper. Gina started Paper Flower Couture a specialty design firm 3 years ago in Las Vegas and created several projects for MGM, Aria, The Linq Promenade, Caesars Palace and the Grant a Wish Foundation. Gina has just finished an installation at Sunset Galleria Mall and was just awarded the 2019 ArtPop @artpopstreetgallery artist of the year award and is excited to be sharing her new gallery opening at Town Square with you.

Why paper flowers ? Well according to Architectural digest, they are an amazing part of world history. China began creating them in 100 BC and floated them down rivers as meditative religious offerings.

To benefit our current times Why would you want to DIY paper flowers? or use paper flowers? Well here are several reasons:

They do not die, wilt or lose color
They are hypoallergenic and will not trigger allergies
They are therapeutic to make as any craft can be
They can be much cheaper than fresh flowers for weddings and events
They don't need water
They are light and easy to travel with
They make great permanent wall art and hair pieces that can be saved forever
They can be earth friendly and green by using organic and recycled paper and materials
They can be fully customized in sizes and colors
Guests or friends can take them home for keepsakes from weddings, baby showers, valentines day, graduations and other parties.

So, thank you for taking the time to check us out and when you search Las Vegas wine and crafts near me or craft classes in Las Vegas, we hope you will think of Petals and Wine.