Las Vegas Employment...
An Endless Sea of Opportunities
**Properties available for sale and pricing of properties on this website may be outdated due to the swiftly changing real estate market, please contact me directly for updated and accurate home searches
The Las Vegas employment scene is more than promising.  Don't let anyone tell you that there are not jobs to be found here!  If you are considering moving to Las Vegas, live here but are unemployed, or just need a change then take advanatage of all of the below helpful resources.
DISCLOSURE: This FREE resource site contains affiliate links & ads related to items my audience is interested in.  This enables me to support this site by sometimes earning a commission if you decide to make a purchase via these ads or links.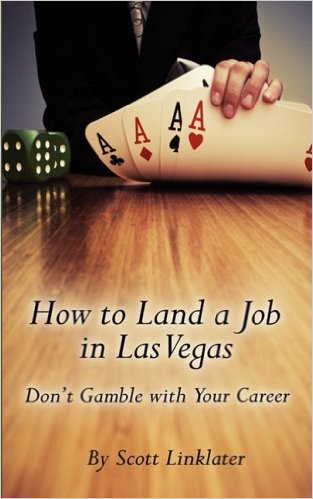 Here is a great book to check out!  How to Land a Job in Las Vegas: Don't Gamble with Your Career and I have created some resource links for you to explore if you envision yourself doing one of these jobs: 
Perhaps you are interested in Real Estate, have a special talent, or would like to start your own business? Well, the Chamber of Commerce is a great resource toolto get the word out to the community about you and your business. Joining the Chamber has many benefits, but the one of the most important is the networking capabilities.
Looking for Job Help
Maybe you are unsure where to start looking for help or not sure what you would like to do; there are several employment agencies that can assist you in the search. They have helped many people find temporary or permanent jobs. They can also help you find additional training, if needed, or guide you in resume writing and interviewing.

You could also head to one of the job fairs that are featured at many of the hotels, so you can make new contacts and hopefully find that career you have been searching for. 


Finding work in this huge city does not have to be a challenge. There are plenty of jobs available out there and the city offers many avenues to assist you in finding one. 
Great Job Search Websites Here:
For a rich city which "sin city" happens to be, I can not think of a better place to find work. Jobs are abundant, it may not be your dream job, but you can at least have affordable living and no State Tax while you are working toward your dream type of Las Vegas employment. 
All you need to do is brainstorm about the areas that you may be interested in, research a bit, and jump into the mix
---
Helpful Las Vegas Employment Links:
Return to "Jobs In Las Vegas" from "Las Vegas Employment".
---
Home | About Us | Contact Us | Build a Site Like This | Advertise With Live In Las Vegas NV

©2008 Live in Las Vegas, NV - All Rights Reserved