The Las Vegas Monorail
Past, Present and Future
**Properties available for sale and pricing of properties on this website may be outdated due to the swiftly changing real estate market, please contact me directly for updated and accurate home searches
 Even if you don't need a ride, you have to check out the Las Vegas Monorail. It is constantly changing its story and its looks, but the fame of the whole idea and the history that comes along with it make this a stop you don't want to miss on your visit.
DISCLOSURE: This FREE resource site contains affiliate links & ads related to items my audience is interested in.  This enables me to support this site by sometimes earning a commission if you decide to make a purchase via these ads or links.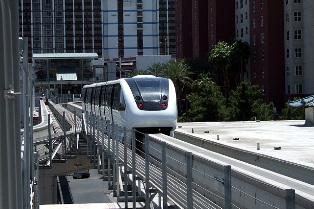 It is very similar to the Disneyland version, fast.....from one end of the strip to the other in less than 15 minutes.
The ride is climate controlled, an amazingly relieving feature in our hot blistering summers and you can laugh at those on below on foot, suffering in the 117 degree heat while you ride above cooler and faster.....this is kind of a budget limousine.
Las Vegas Monorail Ticket Cost
Ticket prices make this strip transportation smart and cheap. Plus it is Eco-Friendly. You can spend less time and money on gas by using this great amenity on your trip and the kids love it: 

Single Ride = $5.00

One Day Pass (24 hours) = $12.00

Three Day Pass (72 hours) = $28.00
They will ship these ahead to you if you want to buy tickets before you visit, you can go to their main website to purchase and ship, or just buy when you get here.
Boarding Stations
You can travel from 7am to 2am Monday through Thursday and on Friday through Sunday from 7am to 3am for 365 days a year! How about that for something you can rely on? How about that for designated driving?
The Monorail Route Map
The Las Vegas Monorail started its journey in 1993 with the current project taking flight in 2004. Bombardier Transportation operates and maintains the entire system. It is the first driverless monorail system in the world and travels at speeds of up to 50 miles per hour! This will be an attraction that you have to see and try to complete your vacation or visit.
---
Helpful Links:
Return to Visit Las Vegas from "Las Vegas Monorail".
---
Home | About Us | Contact Us | Build a Site Like This

©2008 Live in Las Vegas, NV - All Rights Reserved