Visit Las Vegas...
Where Do You Start?
Are you planning to visit Las Vegas? "Sin City" promises its visitors unlimited amounts of fun and entertainment, it can be a bit overwhelming for the first time visitor.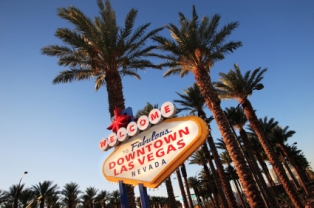 There are things that you may want to plan when you visit Las Vegas, but even airfares and hotels can be booked at last minute, for a price.

Reasons to Visit Las Vegas
Getting Married?
You can have everything here! If you want a fun wedding that is cheap and Vegasssy.. you can do that, if you want lavish
country club
or fine establishment venues, you can have it all!
You can see
Elvis impersonators
,
Take a Las Vegas City Helicopter Flight
on a Maverick helicopter. See millions of lights like Christmas all year long riding down the strip.
See Real Music and TV Stars!
Famous people live and work here! Like Celine Dion.  The shows are amazing, there is an ocean style beach at one resort called Mandalay Bay right there on the strip and they can even hold beach concerts. 
You can also eat any type of food your heart can desire.  Almost any chef who is anybody has a restaurant here... shall I go on?
Look for a wonderful home... Get FREE MLS searches and Information Here.
The prices are amazing right now. You can get a 2500 square foot home in a nice area for around $225,000. You can not buy a condo for that in California. The real estate taxes are low and most of the
communities are wonderful
!
A great reason to come here is just
Having some fun?
You can be provided concierge information for
hotels, shows, golf courses, tours, limos, weddings, bachelor parties, nightlife, nightclubs, dining and Get VIP & Front of Line passes at the hottest VEGAS clubs
More than likely, our
weather
will not let you down, but it is a good idea to check out
what is happening on the temperature scene
.
Whats the Climate?
Current Weather In Sin City
You should begin your plan to visit with a great map resource, this page has
every map
you could need. What to
eat?
, and where to stay? Obvious concerns! Well don't fear..
Las Vegas caters to everyone
including those on a budget. If you are visiting relatives, I recommend staying at a locals place off of the strip such as a
Station Casino or a Cannery
.
If you plan to visit for a longer period of time, allow us to recommend LV Extended Stay Hotels.
Carry snacks and bottled water with you. It can get pricey for those high demand items once you are there. You can however pretty much stick a few quarters in a machine and get free drinks... but without control that could lead to 10 bucks for a water.


It is hot usually about 294 days a year! What is the weather in Las Vegas? Local Weather The current temperature and temperament here right now!


To save money, eat a large breakfast at one of the buffets and it should carry you through to dinner. Or save the buffet trip for dinner. Half Price Deals on Shows, Dining & Attractions!


If you are at a slot machine then the casinos will serve you free drinks. And don't forget to tip your waitress they don't make much per hour and pretty much live on their gratuity.
Not Just For Gambling
Las Vegas is not all about gambling and
searching for Elvis
, although you will have plenty of opportunities to do so when you visit Las Vegas. There are plenty of things to do here for
children and families
too.
Visit our
Las Vegas for kids page
and see hundreds of ideas. A few things to check out are:
If you are looking for a unique travel experience then visit Las Vegas. Every day can be different and there is plenty to do for all types of people. Check out this great hookup for a high class experience, tours, limos, party pools, etc.
Take a gamble on a vacation of a lifetime
.
If you would like more of a locals experience, take a look at our
Locals Events Calendar
or even the good old
local newspaper
so that you can see what great things are going on, click on calendar and Visit Las Vegas through a locals eyes.
First Time Visitor Tips
The Strip is a lot longer than it looks, so take lots of sitting breaks, wear good shoes and take advantage of the Las Vegas Monorail.
---
Helpful Links:
LV For Kids 63 parks, splash pads, mini golf, lions tigers and bears, food, fun, where to stay with your children and tons of information to make your stay the best.

Things to Do Here shows, events, parks, dining, farmers markets and more.

Every Map you Could need strip, hotel, Multiple listing Realtor area, all cities, streets, downloadable, printable.

Information Resource guides, yellow pages, maps and more.

LV Communities and also areas surrounding, Boulder City, North Las Vegas, Henderson

Traveling here flights, hotels, area information, maps, weather.

Great Room Deals get the latest greatest deals available now, locals deals too
Return to Home from "Visit Las Vegas".
---
Home | About Us | Contact Us | Build a Site Like This

©2008 Live in Las Vegas, NV - All Rights Reserved