We are located in the Mojave Desert which is similar to the climates of other vacation destinations such as Death Valley, Kelso Dunes and Laughlin. The best two months are April and October, as I am writing it is October 31, 2011 Halloween and it was about 95 degrees yesterday.
You will not have to worry about any horrific weather conditions while you are here, so you can safely plan your trip anytime of year! Our worst commonality is high Winds.
Everyday Is Sun Day with Las Vegas Weather - Sometimes... Except for when it snows :)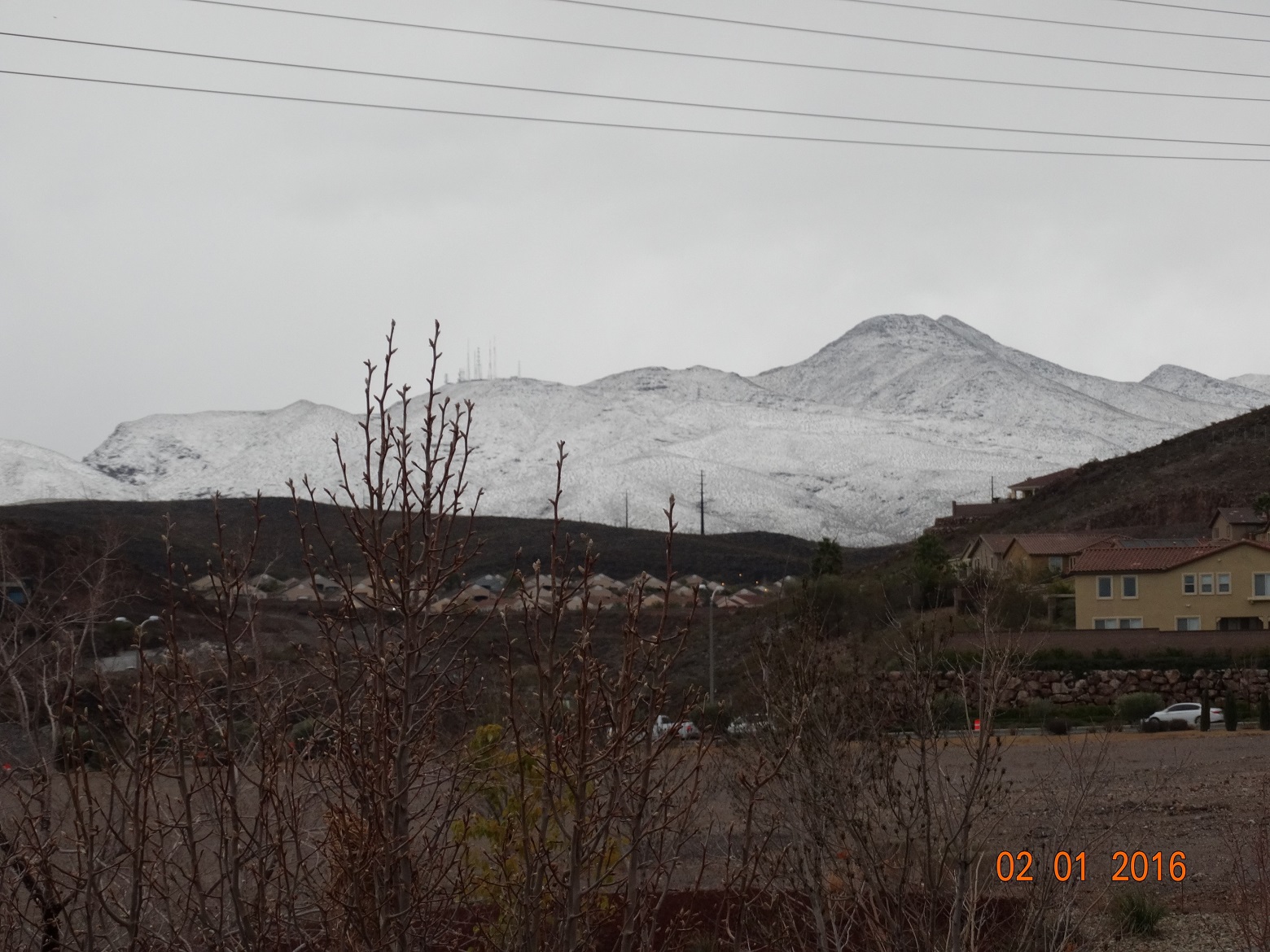 Las Vegas experiences over 300 days of sun! Yes, that is true.  Over 300 days of sunshine! Who can deny the attraction to those statistics? However, with the sun can bring the heat. During the summer months you have to be careful of extremely high temperatures. High temperatures and all of our FREE alcohol don't mix, so keep hydrated. Also, don't forget the sunscreen.
The Winds of Vegas
At certain times of the year, especially spring, there can be strong winds. While you are on the Strip, the wind can get caught within the buildings and create wind tunnels. Some of the attractions are not allowed to run during these times so if you are visiting for certain reasons, you might want to call ahead. The Stratosphere and the roller coasters have to have prime conditions to operate safely, so expect delays or shut downs if it is an extremely windy day.
Snow In Las Vegas?
No, not usually in Vegas proper, however, it is becoming more common.  
If you want to ski while on vacation though, then you are in luck because you do not have to travel too far to Las Vegas Ski and Snowboard Resort; while the city is in the bowl of the desert, there are high mountains that surround Las Vegas.
These mountains will have snow atop of them during the winter and into the spring. The mountains are Mount Charleston and they boast a ski and snowboard resort, a beautiful hotel and a lodge. A quick drive will bring you to some of the most breathtaking views and 10-20 degrees cooler, so be sure to dress for it.
Enjoy the Lake Year Round
Anytime of year, you will find something to enjoy about our Lake Mead Recreational Area.  It has suffered a significant loss of water, so you should take a boat out to really be able to enjoy the better parts of the lake but it is nice to have this wonderful amenity in the middle of the desert. 
From boating to museums and history to partying for Spring Break! Don't miss it, they even offer romantic cruises on the Lake.  
Vacation planning can be exciting and one thing that always has to be considered is the Las Vegas weather. Las Vegas is known for so many things, including the beautiful predictable weather. There is not much need to prepare for the Las Vegas weather and you can spend more time enjoying your trip to this exciting city.
If you are buying a home here you might consider a home with a pool or a condo or town home with a community pool. Some housing developments have community pools also such as Inspirada. This is a great community with baseball fields, clubhouses, community pools and trails.
It is pretty tough to get through the summer without a pool. The best next option is always the public parks with amenities such as splash pads or public pools. These are affordable and fun options for those that don't own their own pool or have one in the community.
---
Helpful Links:
Traveling To Las Vegas - This is a great resource for weather tips, discount flights and hotels and how to get around.  Information and advice from a local for visitors to get great enjoyment from our fine city.
Las Vegas For Kids - Hundreds of things to do in Las Vegas with kids.  Written by a local, this page is an endless resource for great things to do here with kids. Free kids meals, kid friendly shows, parks, fun zones, museums and so much more. Hundreds of things to do with kids.
Visit Las Vegas - Do you need maps? guides? local resources? This is a great page to visit to help plan your trip.  Get insight from a local and not someone trying to sell you something. 
Return to Visit Las Vegas from "Las Vegas Weather".
---
Home | About Us | Contact Us | Advertise with Live in Las Vegas NV | Build a Site Like This

| ©2008 Live in Las Vegas, NV - All Rights Reserved
Home | About Us | Contact Us

©2008 Live in Las Vegas, NV - All Rights Reserved