Las Vegas
Pool Homes
**Properties available for sale and pricing of properties on this website may be outdated due to the swiftly changing real estate market, please contact me directly for updated and accurate home searches
Las Vegas pool homes are abundant right now and at great prices, but what do they look like? Well, they are in all areas, all prices and all sizes!

DISCLOSURE: This FREE resource site contains affiliate links & ads related to items my audience is interested in.  This enables me to support this site by sometimes earning a commission if you decide to make a purchase via these ads or links.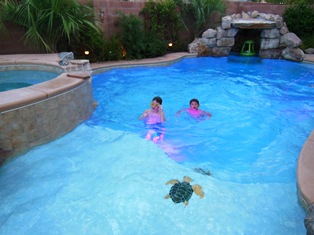 If the home is bank owned, or a short sale, often the pool has not been kept up leading to the high probability that is has to be replastered or equipment has to be replaced. A great deal on replastering a pool is about $2800. Like I said this is a good deal and does not include a spa. This is what I paid for a pool replaster only.
Always feel free to contact me for advice or just post comments on the blog. I have a lot of suggestions to make sure jobs are done correctly and what to look for.  Right now you could pick up a Las Vegas Pool Home for $150000 to 175000 however, this may not be where you want to live.
Try my FREE MLS Search page, I am a Realtor, so this is direct to the MLS, it does not have any delays like Zillow or Trulia where the properties could already be sold 48 hours later when they finally post them.

Please take my advice and DON'T try to paint the pool. Once it has been sitting in the Las Vegas sun for any period of time, the plaster is bad and you are wasting your time.
Yes, I am talking from experience. My husband and I have done a few investment remodels and lost the paint battle. You can contact me any time to ask me about it.
Las Vegas Pool Homes Search
You can customize your own search straight to your email and straight from the multiple listing. Please visit this page and fill out the form The more information the better.
If you are tired of flaky contractors and need some real help with your bank owned property, email me for reliable references or you can try Angie's List - Finding thousands of unbiased ratings and reviews on service companies in your area, try Angie's List or Homeadvisor. 
Get a custom pool home search emailed to you daily, just email me with your price range, area, bedroom requirements, etc. Please don't forget to give me your email address so that I can set you up. You can visit this link and do your own search, but it does not let you specify pool, the easiest way to do this is to get your custom search sent to you.


 A good pool guy is about $125 month. Your electricity bill is going to be carrying the added cost of running your pump all day. If equipment goes out, you are looking at hundreds if not thousands of dollars in replacement costs, as a decent pump runs at least $600, so just make sure you are up for the cost of the pleasure!

---

Helpful Links:
Find local reviews on the services you need at Angie's List – from electricians to physicians – Take the Tour!

Return to Las Vegas Nevada Real Estate from "Las Vegas Pool Homes". 

---
Home | About Us | Contact Us | Advertise with Us

©2008 Live in Las Vegas, NV - All Rights Reserved